Tuskainen prosessi, etenkin siihen nähden että kyseessä on vain omien lempilevyjen listausta. Ennakointipuolustuksena ja vähättelynä pitää korostaa, että lista on pääasiassa nimenomaan lempilevylista, ei välttämättä objektiivisin. Muutama levy olisi jäänyt pois jos olisin yrittänyt olla 'oikea' kriitikko. Mutta en halua, että käy niin kuin viime vuoden listalla yhden albumin kohdalla, että ihmettelin miksi se oli mukana. Näitä olen kuunnellut ja näistä olen pitänyt.
20. The Black Keys - El Camino
Viime levyllä oli paljon suosikki blackkeys-tunnareita, mutta se oli selkeästi liian sinkkuvetoinen rykäisy. Pelkäsin tämänkin kääntyvän siihen suuntaan, mutta tämä osoittautui lopulta ihan kohtalaisen eteväksi kokonaisuudeksi. Aika velikultia, miten näistä voi olla pitämättä?
Lempikappale nyt: Hell of a Season
19. Benjamin Francis Leftwich -

Last Smoke Before the Snowstorm
Benjaminin levy ei ole omaperäisin, eniten uutta ilmaisua tuova. Mutta se on vahva esikoisalbumi nuorelta lauluntekijältä, jonka jokainen kappale osuu oikeaan nuottiin minussa. Kun kuuntelen Benjaminin kähinää ja akustista kitaraa levyllisen verran, menee aika nopsaan ja kevyesti.
Lempikappale nyt: 1904
18. Holy Ghost! - s/t
Toinen esikoisalbumi listalla on toispuolinen onnistuminen. Eikä vähiten sen takia, että osa kappaleista ja nämä jampat ylipäätään ovat niin tuttuja. Odotuksiin nähden uudet kappaleet olivat hieman keveitä verrattuina niihin jo kuultuihin, mutta todella hyvä, hauska ja viihdyttävä levyllinen modernia italoelektropoppia on silti kyseessä.
Lempikappale nyt: Hold My Breath
17. The New Tigers - s/t
Hyvinhyvin iloinen ja yllättynyt tämän bändin tekemisistä. 8raidan ja Stupidon vuoden myydyimpien levyjen joukkoon mahtunut debyytti esitteli nälkäisen ja itseensäluottavan bändin. Parhaimmillaan bändi saavuttaa sellaisia huippuja, joita harva tänä vuonna on edes unelmoinut saavuttavansa.
Lempikappale nyt: Clocks of Destruction
16. WU LYF - Go Tell Fire To The Mountain
Kaikenlaisia hölmöyksiä trendisentrisen mysteerikaavan mukaisesti huudellut ja tehnyt manchesteriläisbändi puski kaiken tarpeettoman takaa vähän yllättävänkin ehjän kokonaisuuden musiikkia. Laulajan ääneen kestää tottua, mutta unohda puheet bändistä, ja kuuntele mitä sanottavaa bändillä on musiikillaan. Sitä kun riittää.
Lempikappale nyt: Such a Sad Puppy Dog
15. Feist - Metals
Leslie Feist on yksi niistä artisteista jotka mun olisi aivan ehdottomasti nähtävä livenä. Olen kiertänyt (tätäkin) levyä paikoin alkuintoilun jälkeen kuin kissa kuumaa puuroa, koska - tietysti - pidin Reminderista aika kovasti. Mutta tämä alkaa aueta. Ja kun se aukeaa, se hengittää vapaasti ja luonnollisesti, kuten Leslien kappaleet parhaimmillaan.
Lempikappale nyt: Bad In Each Other
14. Bon Iver - Bon Iver
Tähän levyyn, useista yrityksistä huolimatta, en ole täysin päässyt sisään. For Emma.. aivopesi mut aikanaan ilmeisen pahasti. Toisaalta, oon palannut uudestaan ja uudestaan tämän suureellisen kakkoslevyn pariin joko selvittämään sen mysteerejä tai nauttimaan. Useimmiten kumpaakin.
Lempikappale nyt: Beth/Rest
13. Apparat - The Devil's Walk
Saksalaisartisti Apparat on hienosti siirtynyt vähän kauemmas elektronisista juuristaan ilmaisun puitteissa. Peruspohjavire on sama, mutta tällä levyllä Saschan tekosissa on aimo annos raikkautta, lähestyttävyyttä ja luomista. Ykköslevy hengailuun tai työnteon oheen.
Lempikappale nyt: Song of Los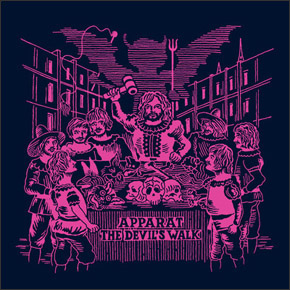 12. Processory - Change Is Gradual
Mun varsin pakkomielteinen suhtautuminen tähän levyyn syttyi vasta loppuvuodesta. Jori Hulkkosen ja Jerry Valurin yhteisaatoksina syntynyt erinomainen pakkaus elektronista musiikkia, joka ilmaisee laajasti samanaikaisesti genrerajojen sisällä ja ne ylittäen.
Lempikappale nyt: Trickle Down
11. Ryan Adams - Ashes & Fire
Tajusin yhtäkkiä, että tämä kuuluu mun listalle. Adams on mun kaikkien aikojen lempiartisteja, ja alkuinnostuksen hälvennettyä, olin tähän pettynyt kokonaisuutena. Mutta oon kuunnellut tätä melkeinpä eniten tämän vuoden levyistä ja ilokseni tajunnut miten hienosti Ryan osaa oman lajinsa. Hieno mies ja hieno levy.
Lempikappale nyt: Chains of Love