Arvostelujen lukeminen ennen levyn kuuntelua saattaa vaikuttaa arvaamattomalla tavalla. Esimerkiksi amerikkalaisen singer-songwriterin,
William Fitzsimmonsin
, uusi levy
Gold In The Shadow
julkaistaan Britanniassa tänään ja Atlantin tuolla puolen huomenna. Ennen kuin kuuntelin levyn, luin yhden arvostelun, joka oli sattumalta kahden tähden lyttäys.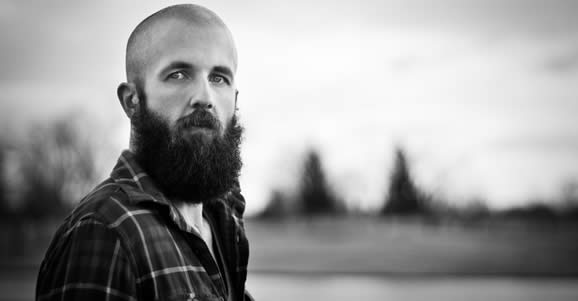 (Kuva: folkradio.co.uk)
Tällaisessa tilanteessa tapahtuu yleensä yksi kahdesta mahdollisesta reaktiosta: joko odottaa ämpärihuonoa tuotosta ja tavallaan hakee itse todistusaineistoa ennakkoonmuodostetun mielipiteen tueksi, tai puolustelee itselleen jo etukäteen miksi arvostelu ja arvostelija olivat erityisen väärässä ja hakee alituiseen sille oikeutusta musiikista.
Folk-skenen komeimman parran omistava Fitzsimmons on jäänyt aina pienemmän piirin iloksi kuin lähimpiin verrokkeihin lukeutuva Iron & Wine. Huonommaksi Fitzsimmons ei kuitenkaan ole koskaan suostunut lukeutumaan, sillä tämä on aina tavoittanut herkempiä nuotteja ja vivahteita maanläheisellä ulosannillaan kuin esimerkiksi juuri I & W:n Sam Beam.
Tietynlainen konstailemattomuus sekä erikoinen elämäntarina ovat luoneet Fitzsimmonsille omanlaisensa habituksen. Sokeiden vanhempien kasvattama Fitzsimmons työskenteli mielisairaiden parissa terapeuttina ennen kuin muusikon ammatti vei täyden huomion. Se on näkynyt aina tämän tarinankerronnassa ja niin myös uudella levyllä.
Luettuani arvostelun, jossa Gold In The Shadow leimattiin pettymykseksi, tajusin mistä oma kamppailuni levyn kanssa johtui. Se kuulosti melko kauan etevältä, kunnes palasin Fitzsimmonsin vanhemman tuotannon pariin: ainakin Until When We Are Ghosts sekä Goodnight ovat kovia verrokkeja. Vaikka GitS kuulostaa kivalta vuonna 2011, ei se millään vedä vertoja noille kahdelle ensimmäiselle levylle. Se oli epäilemättä koitunut myös tuon lukemani arvostelun koetinkiveksi.
Jos nyt jatketaan vertailua, olivat UwwaG sekä Goodnight Fitzsimmonsin kotona äänitettyjä ja tämän itsensä tuottamia ja se kuului juuri sillä tavalla kuin sen soisikin. Gold In The Shadow taasen tuntuu kärsivän hieman epätasaisemmasta materiaalista ja kompensoivan sitä tuotannolla. Uusi levy jatkaa osuvasti myös Iron & Wine -vertausta, sillä tämä saattaa olla samankaltainen suoritus omassa diskografiassa kuin I&W:n uusin: se jakaa mielipiteitä, lukeutuu pettymykseksi joillekin vanhoille faneille mutta tuo uusia artistille varmasti lisää.
Vaikkei
GitS
aivan olekaan kahden ensimmäisen veroinen, on Fitzsimmonsilta aina hienoa kuulla uutta. Paras terä voi hakea hieman itseään, mutta harva tavoittaa samat sopukat kuin William Fitzsimmons. Tässä Fitzsimmons yhdessä
Julia Stonen
kanssa - jenkkiversiolla duetoijana on
Leigh Nash
. Kiva että teit taas levyn, sinua kaivattiin.
Gold In The Shadow kuuntelulinkki
.
Näihin vanhoihin kannattaa palata myös. It's Not True on aivan suosikkeja.